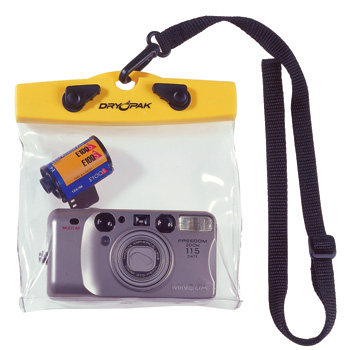 The Dry Pak Camera case is a waterproof bag that allows you to shoot pictures through its clear, optical quality bag. It's perfect for cameras, and also can be used for phones, GPS's, PDA's, MP3 players and any other type of small electronic gadget or valuables that need to be protected from water.

The Dry Pak is completely waterproof and also floats, making it perfect for water sports, camping, traveling and backpacking.

6 in. wide x 5 in. long x 2 in. deep
Optically clear TPU
Adjustable camera strap
Yellow sealing clip for high visibility
For beach, pool, boating, water parks
Holds 35mm & digital cameras, etc.
Maximum circumference: 11in.